Now it's week two of my Card Service Project. Here are the new cards I made this past week to add to my giveaway stash yesterday: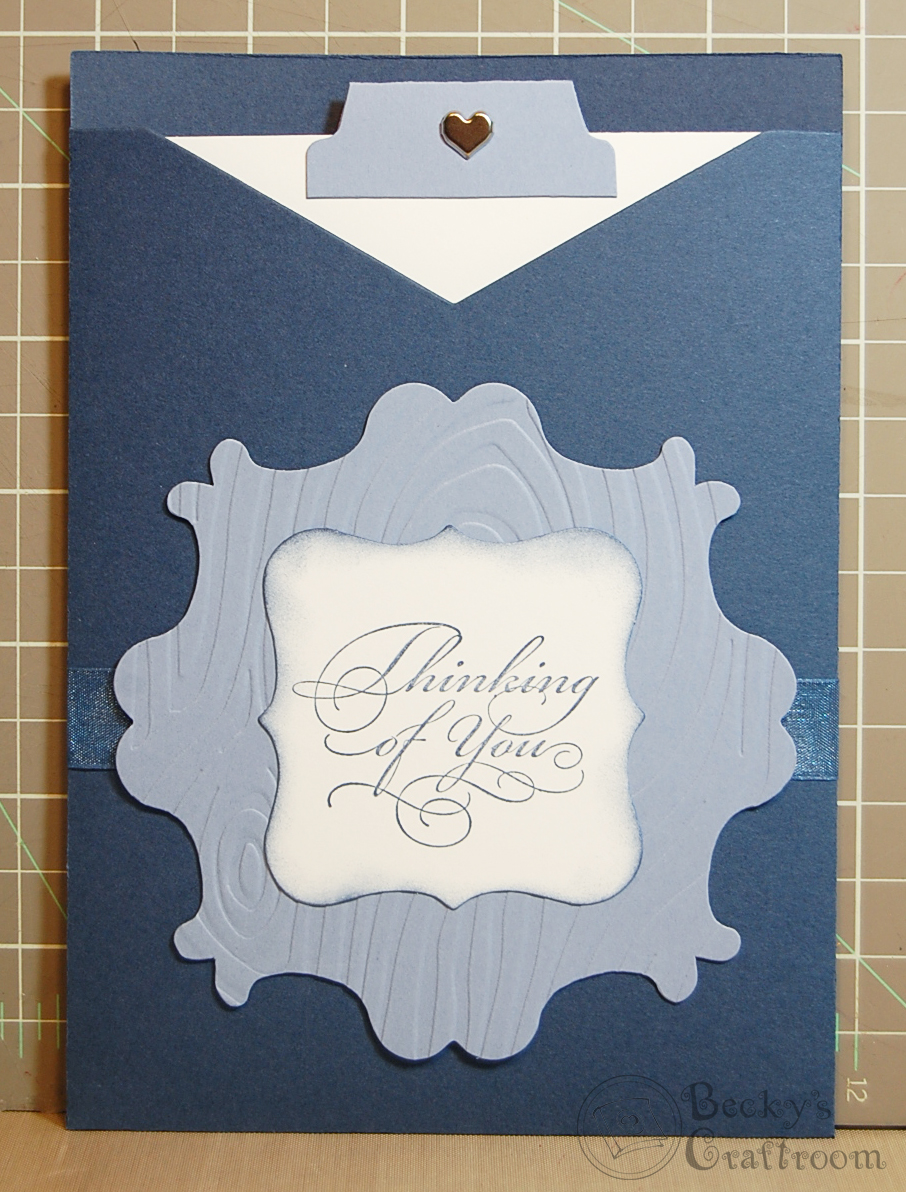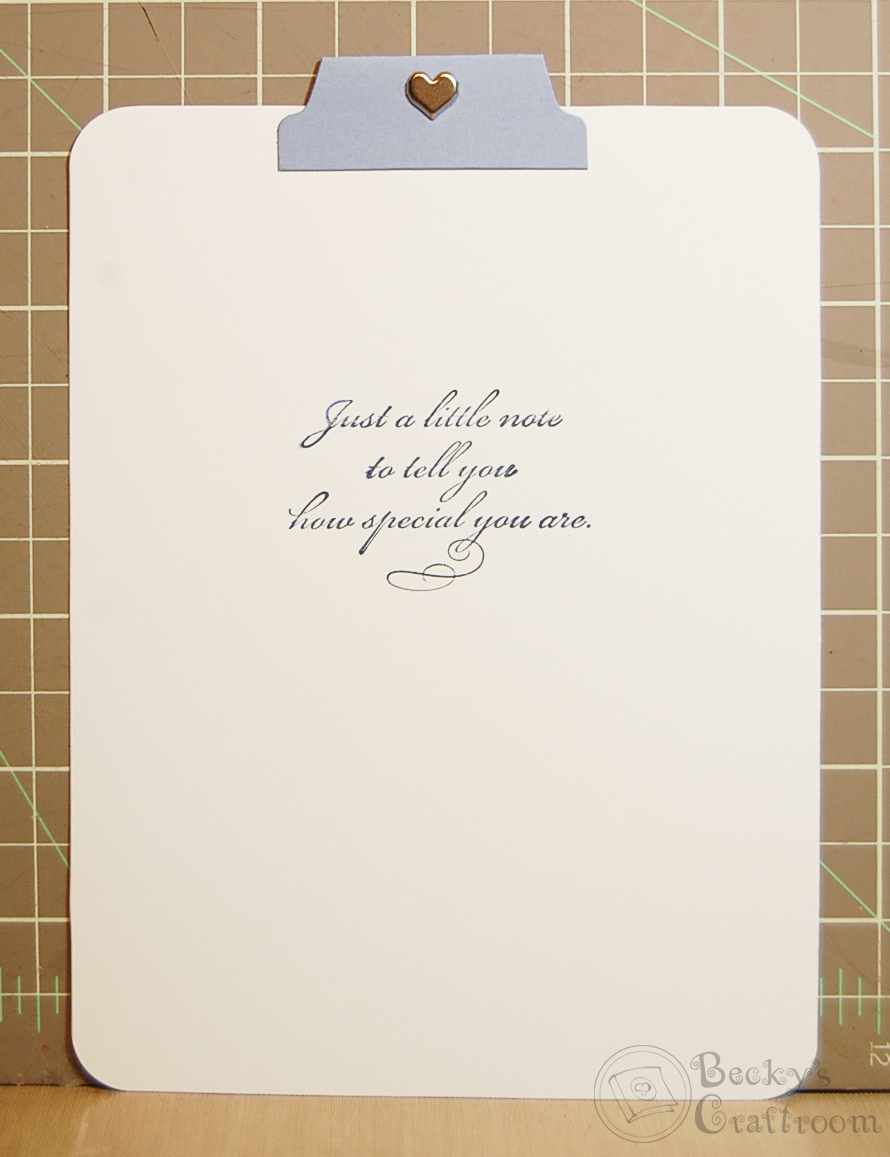 First, I cut the card from the AccuCut A7 Jacket Card #1 die in a smooth navy blue cardstock. Then, I cut the center mat from the AccuCut Vintage die. Then I embossed it with the Darice Woodgrain 5″x7″ Embossing Folder Background. The light blue cardstock is Via Periwinkle. The center white mat is cut from a custom mat die I had made by AccuCut, measures 2-1/2″ square. But you could substitute a die cut from the AccuCut Accents-Antique die, the inside shape of the 3″ frame is 2-3/8″. The tab is cut from the AccuCut Tabs die and I decorated it with a Creative Impressions silver medium heart brad. The white card liner is cut from the AccuCut A7 Pocket Card die. I trimmed it a bit short so it wouldn't be taller than the card with the tab added on. The ribbon is Morex 5/8″ Sheer Organdy ribbon, French Blue. The stamp set used is Stampin' Up! Elegant Greetings and the ink is an old Stampin' Up! pad, Night of Navy.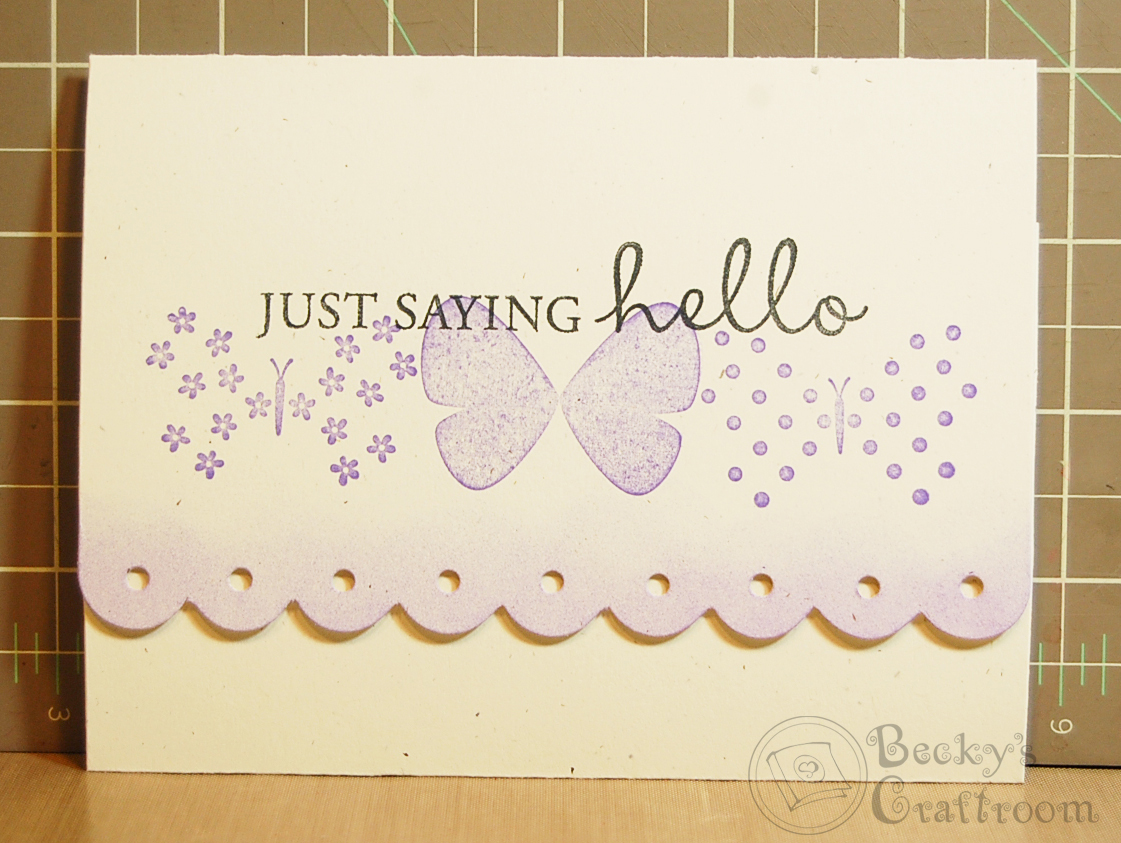 I love the simplicity of this card! I can see I'll be making a ton of these, as well as adapting the design with a variety of stamp sets. Easy to make one-layer card, yet it is still pretty and elegant. I die cut it from the AccuCut
A2 Card-Scalloped #3
die. The cardstock is French Papers Speckletone Cover – True White. I love this cardstock! I use it in almost all my cards. It's a fiber-flecked smooth cardstock, a visually pleasing texture that is just the perfect off-white color, just barely neutral. It stamps well and works with both bright and neutral color inks. I buy it directly from French Papers online, though I wish Bazzill Basics or American Crafts would add it to their collection so I could get it in 12×12″. I should see what it would cost to have French Papers custom-cut a batch of 12×12″ for me. Might be worth it. Seriously, you need to have some of this! For this card, I stamped the butterflies from the Stampin' Up! set Flight of the Butterfly, in an old Stampin' Up! pad, Lovely Lilac. I sponged the scallops in the same ink color. The greeting is from the Hero Arts Clear stamp set CL380 Truly Appreciated.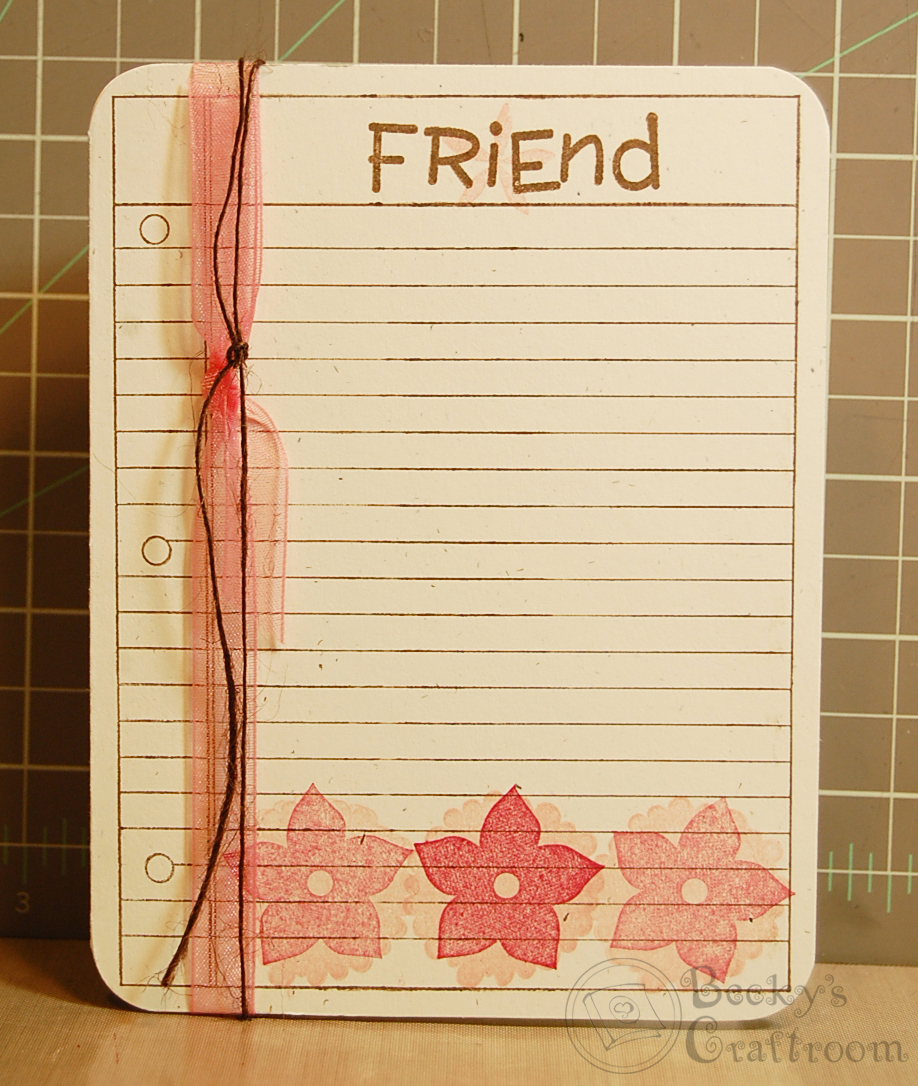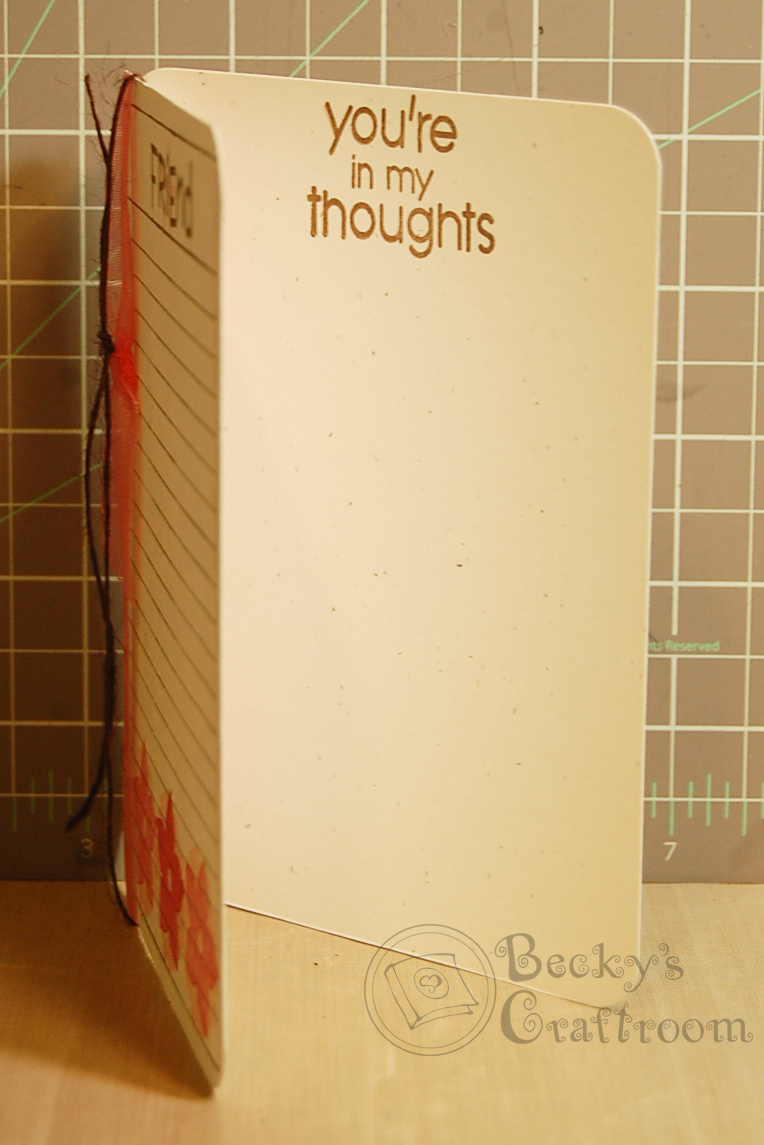 I handcut this card, just cut a regular 8.5×11″ piece of cardstock in half, 8.5×5.5″, then scor and fold in half. I rounded the corners with the
Large Corner Rounder Punch
I sell in my eBay store. Again, this is the French Papers True White cardstock. The stamps used are Hero Arts CL351 Friends greeting set, Hero Arts CG526 Large Notebook Paper stamp, and the Stampin' Up! Flower Factory set. I used old Stampin' Up! Ink pads, Close to Cocoa, Rose Red, and Rose Romance. The ribbon is Morex 3/8″ Sheer Organdy Dusty Rose and the brown twine is from Creative Impressions.
Can't wait to see what I come up with this week ahead!