I was sitting in church on Sunday, February 23, a few weeks ago, and just listening to the speaker. My mind was kind of wandering, and an idea occurred to me that lit up my brain and percolated for a few weeks. I'd become disconnected from my love of crafting and making cards, and it occurred to me that what would really make it fun again would be to make and give away cards for other people to use in their daily lives. It would be a great way to give back, to be of service to other people, to show my gratitude for the gifts of my creativity and the material possessions that I have. Plus, there's all that paper that needs to be used up so I can buy pretty new paper! Paper crafters, you know what I'm talking about.
So, yesterday was the first day I brought my stash of cards to church and passed a box of them around for ladies to take. They can use them to give to other women in our ward/church that they visit (it's call Visiting Teaching in the LDS church), to use as a greeting, birthday, or pick-me-up card. Or, take one to give to a neighbor, friend, or family member. I was glad to see nearly all of them taken. Part of the stash were ones I'd received in a card swap years ago. I'm glad that's not collecting dust anymore. It felt great to give them away, and it made me energized to make more for the next week. My crafter's brain is coming alive again!
Here are pics of some of the cards I've made, that were part of the giveaway yesterday: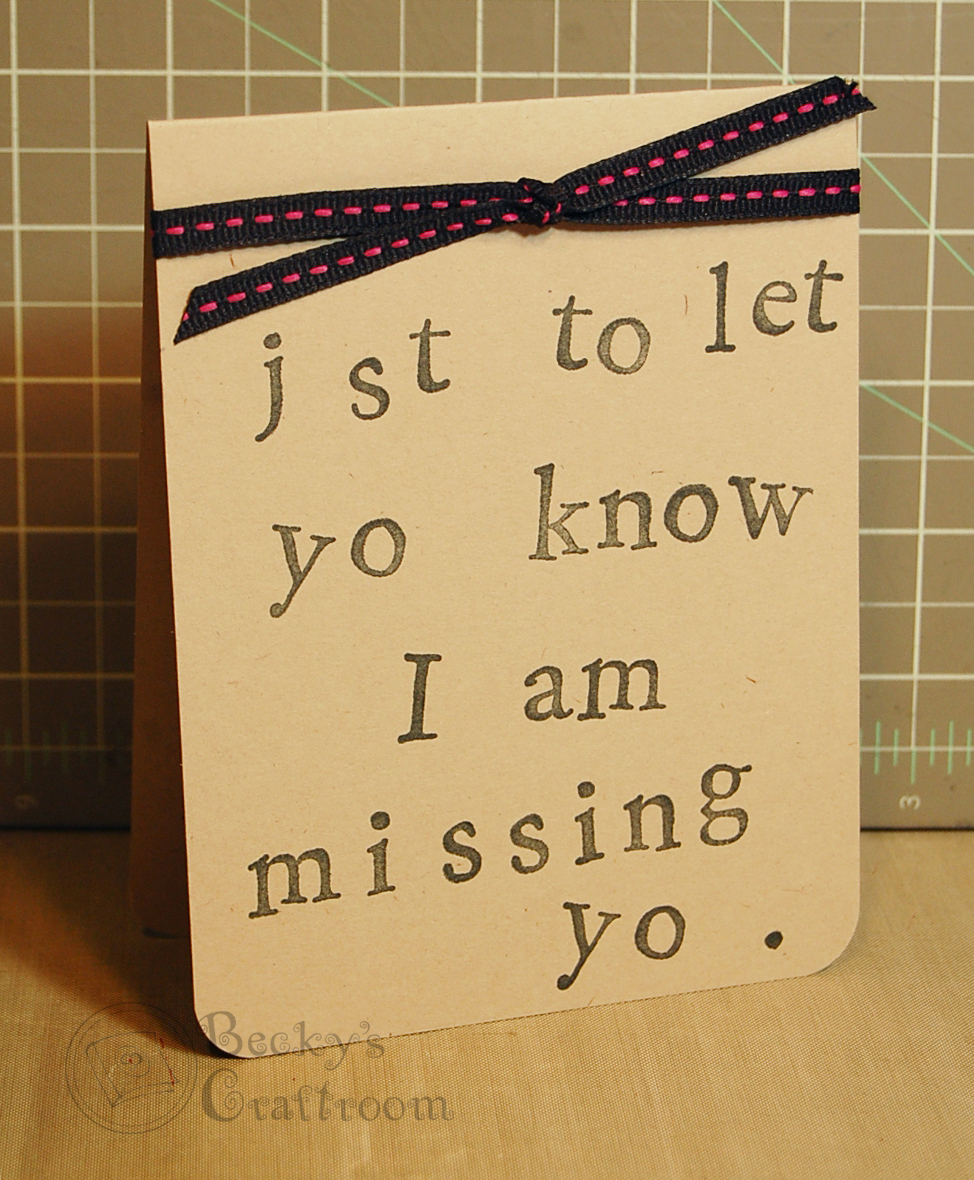 In case you don't get the pun of the card, it's a play on words. All the missing letters are the letter "u", for "missing you". I totally copied the idea from a pin I found on Pinterest. Here is the original link to the listing in the etsy store Beside The Willow Tree. I stamped it on a tan fiber-flecked cardstock, which I think originally comes from French Paper, called Oatmeal cardstock. Bazzill Basics calls it Kraft and American Crafts has a shade lighter called Kraft. I cut a regular 8.5×11″ piece of cardstock longways into 2 pieces that were 4.25×11″, then scored them in half. I used a 1/2″ corner rounder punch on the corners. I sell this punch in my store: Large Corner Rounder Punch. I also carry the Small Corner Rounder Punch. The stamp set I used is Hero Arts LL931 Signature Lowercase Letters. The ribbon comes from Creative Impressions, 1/4″ Black with Magenta Stitch.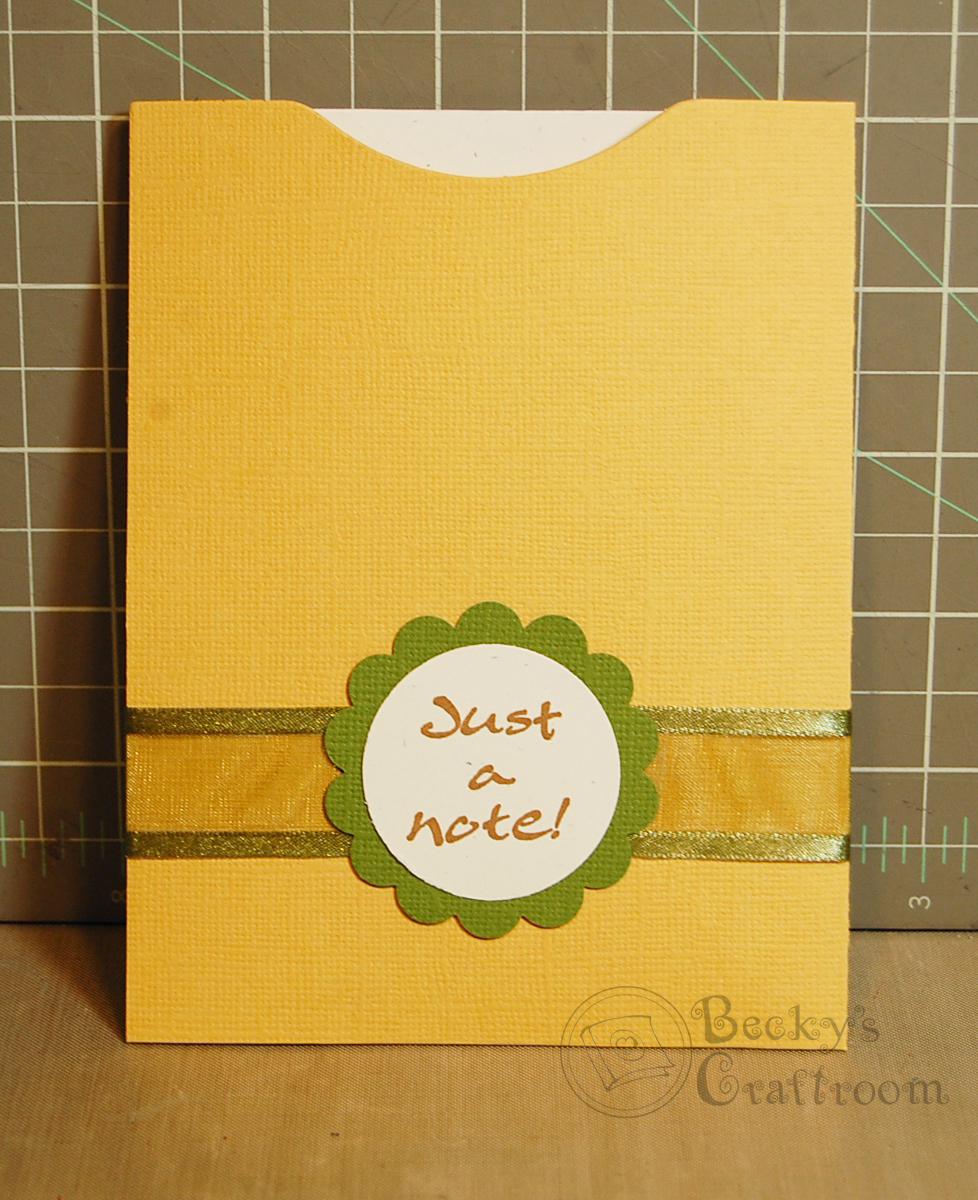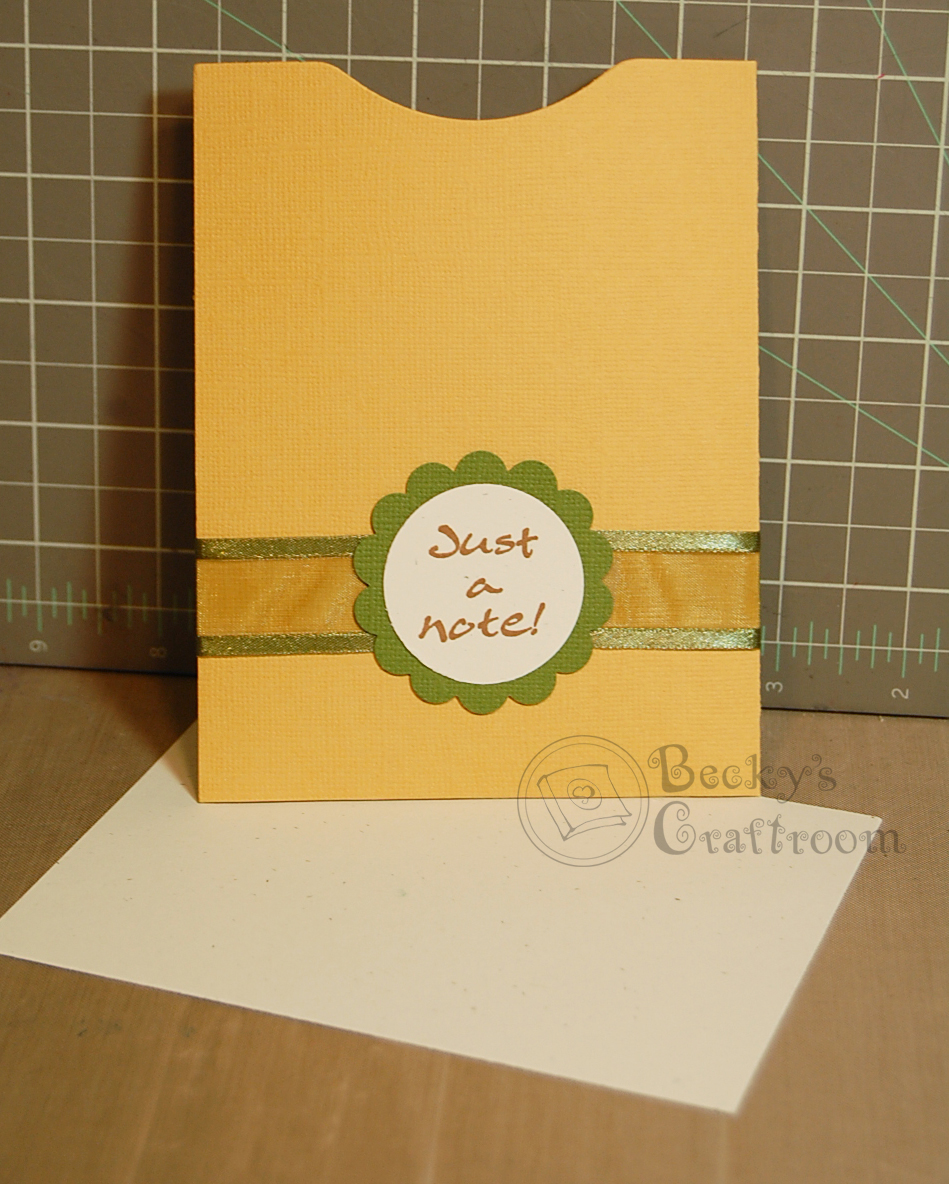 I die cut this one from my custom AccuCut A2 Pocket Card die, which I had made for me several years ago because I loved AccuCut's A7 Pocket Card. AccuCut now has a nearly identical one in their catalog, the A2 Card-Easel. I love the pocket card shape! It's totally a staple in my card-making. I cut the card from Bazzill Basics Beeswax. The green scalloped circle was cut using the EK Success 2″ Scalloped Circle punch, and the cardstock is Bazzill Basics Hillary. The inner circle was cut using the EK Success 1.5″ Circle punch. Both the inner circle and the pull-out insert were cut from French Paper's Speckletone True White. It a subtle off-white fiber-flecked cardstock. It's my favorite off-white cardstock! I use it on nearly all my cards. Go get some! I bought it directly from French Papers, though I wish Bazzill Basics or American Crafts would add it to their collection so I could get it in 12×12″. I should see what it would cost to have French Papers custom-cut a batch of 12×12″ for me. Might be worth it. Seriously, you need to have some of this! The green ribbon on this card is unknown, but you might find something similar from Morex.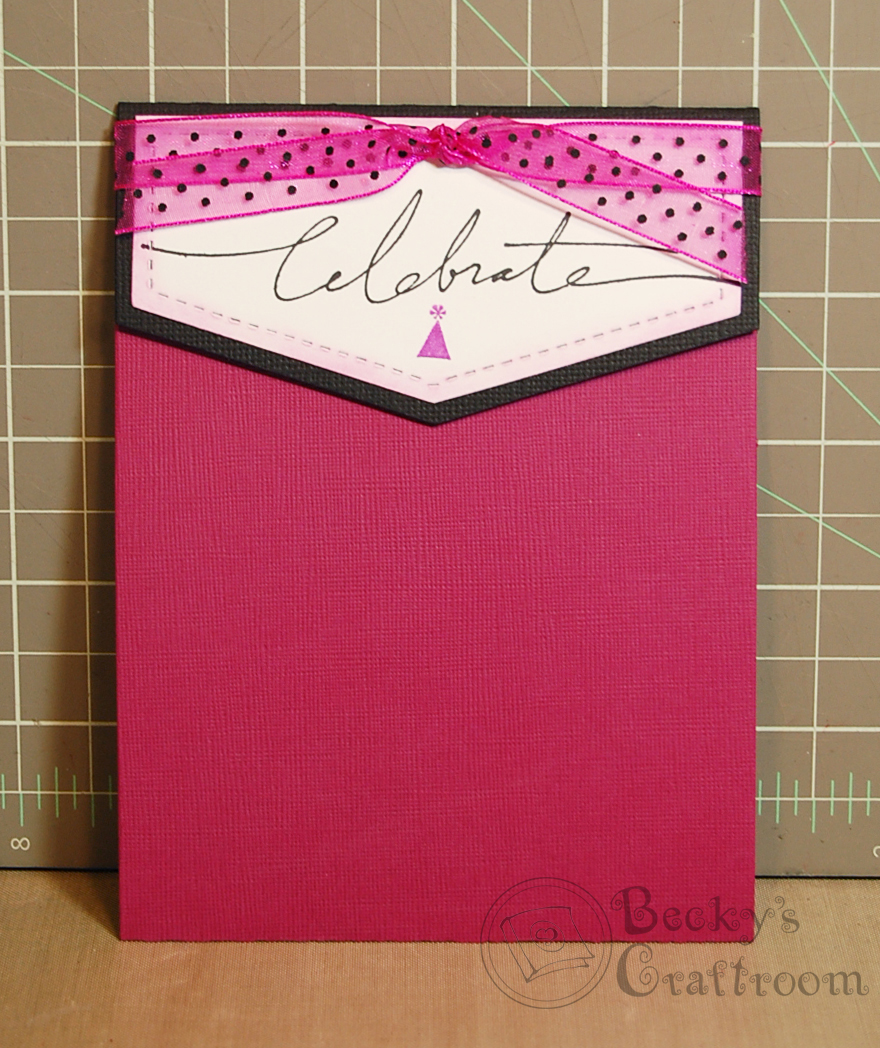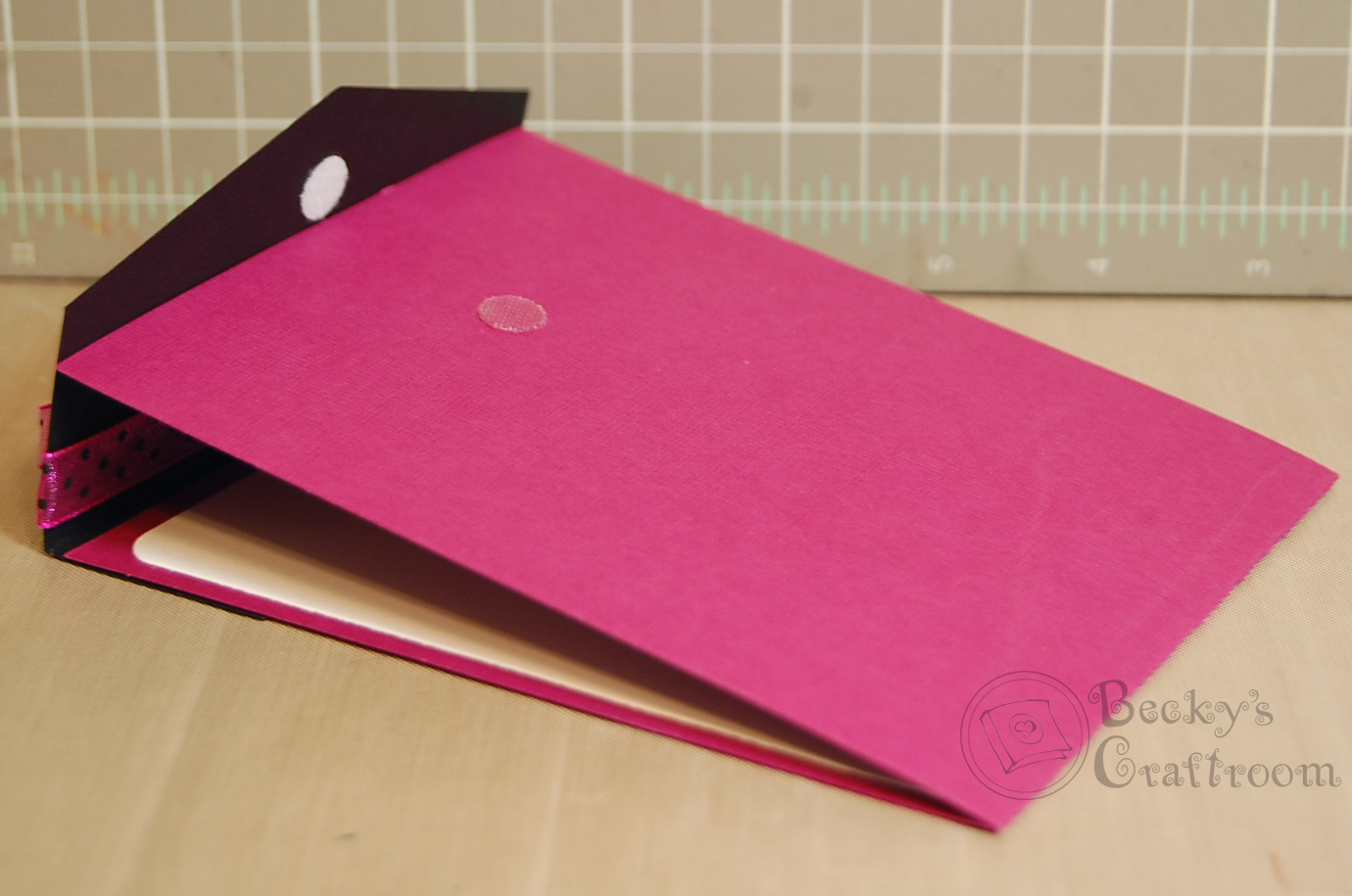 This is another one of my custom AccuCut card die sets. It's made from a long-cut A2 card, with a jeans-pocket shaped flap that is idential back and front, and glues on the back, and then is tacked down on the front with a self-adhesive velcro-dot closure, which is also sold in my eBay store, Becky's Craftroom. Do a search for velcro and you will see several options. While not strong enough for office or industrial applications, they work beautifully for cards! The cardstock is Bazzill Basics Tangy Taffy, which unfortunately is discontinued. It pairs so well with the ribbon, which I think is Creative Impressions. A good paper substitution would be American Craft's Geranium. It's a shade lighter, but also workds well with the ribbon. The front white mat, also from my custom die set, is stamped with the Stampin' Up! Wonderful Words set and the Stampin' Up! Small Sayings set. Then I chalked around the edges of the white mat, a magenta color from an old Decorating Chalks set.
I hope you enjoyed seeing my cards for this week. I hope this is a tradition that continues for a long time to come!