Well, I had this marvelous kit I was going to sell for Black Friday & Cyber Monday, a great Christmas 6×6 pad from My Mind's Eye. I was going to turn it into a cute mini-album. Even sent a sample to an enthusastic customer to play with. After the show I did last weekend, they have all disappeared! I discovered this a few hours before I was headed out of town for Thanksgiving, not enough time to sit down and put together a full-fledged sample of something else to sell for Black Friday. To say I was disheartened is an understatement, especially considering all the pre-advertising I did for it. Sorry Julie!! So, I'm putting together a last-minute Black Friday special with another item I KNOW I HAVE. It's a 12×12 Christmas Holiday Glitter Pad from My Mind's Eye: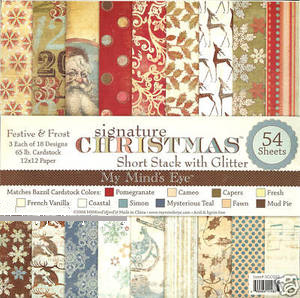 I'm going to turn it into a mini-album, complete with chipboard covers, so look for it in my eBay store – December Daily Mini Scrapbook Album Kit
Coming on Cyber Monday Nov 26
I will also be showing scrapbooking kits from the Simple Stories Handmade Holiday line and the Bazzill Basics Believe line: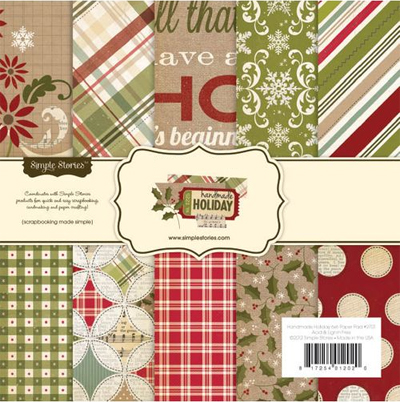 I have a sheet of patterned paper from each of the designs in the line, as well as all 3 of the different sticker sheets. Journaling cards, coordinating Bazzill Basics cardstock, and ribbon will also be included.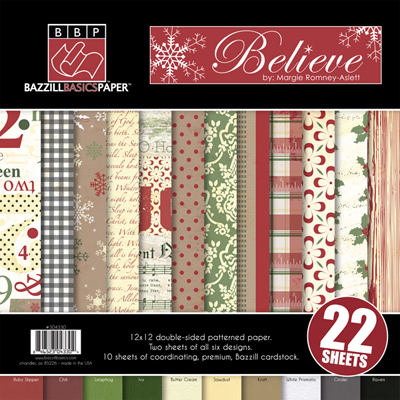 This will include the multi-pack, extra cardstock, as well as extras from the Believe line such as the stickers. Ribbon also included.