I just got my new shipment of custom dies from AccuCut, and made these really cute boxes from the pyramid box die set. Basically, it's a resizing of AccuCut's Box Pyramid #3 BX925. I wanted a box that was as large as possible, but not too large for 12×12 paper. The base is 4-7/8″ square when folded, the top opening is 3-3/8″ square, and the box stands about 3-3/8″ high. I made three different samples: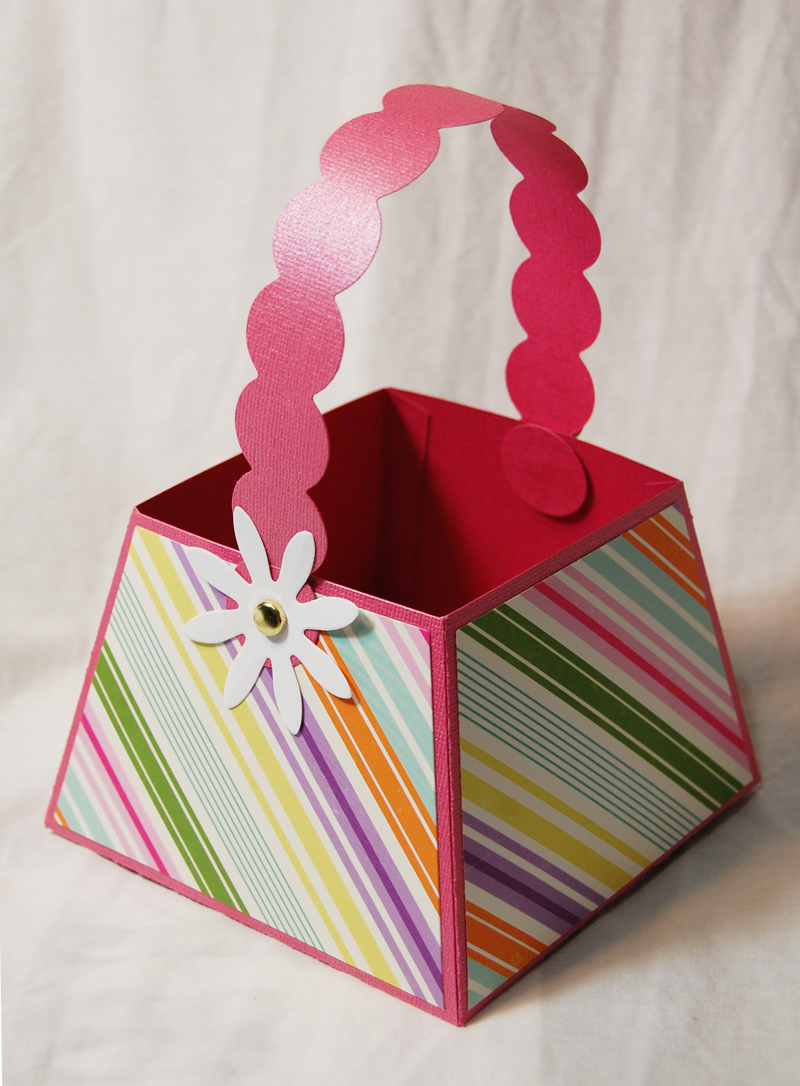 Here is a spring or Easter box. Cardstock is Bazzill Bling Feather Boa and the striped patterned paper is Hippity Stripe from Echo Park Paper Co.'s Hippity Hoppity line. The daisy on the side is also new from my custom layering daisies dies, sizes 1.5″ up to 5″, in 1/2″ increments. The handle was also cut from a new custom die shape, a resizing of AccuCut's Borders #2 die BR571, the scalloped shape. Their shape is 3/4″ wide, and mine is 1″ wide. I attached the handle with a 1/4″ circle gold brad and then covered the brad tails on the inside of the box with 1″ circle cut with a circle punch.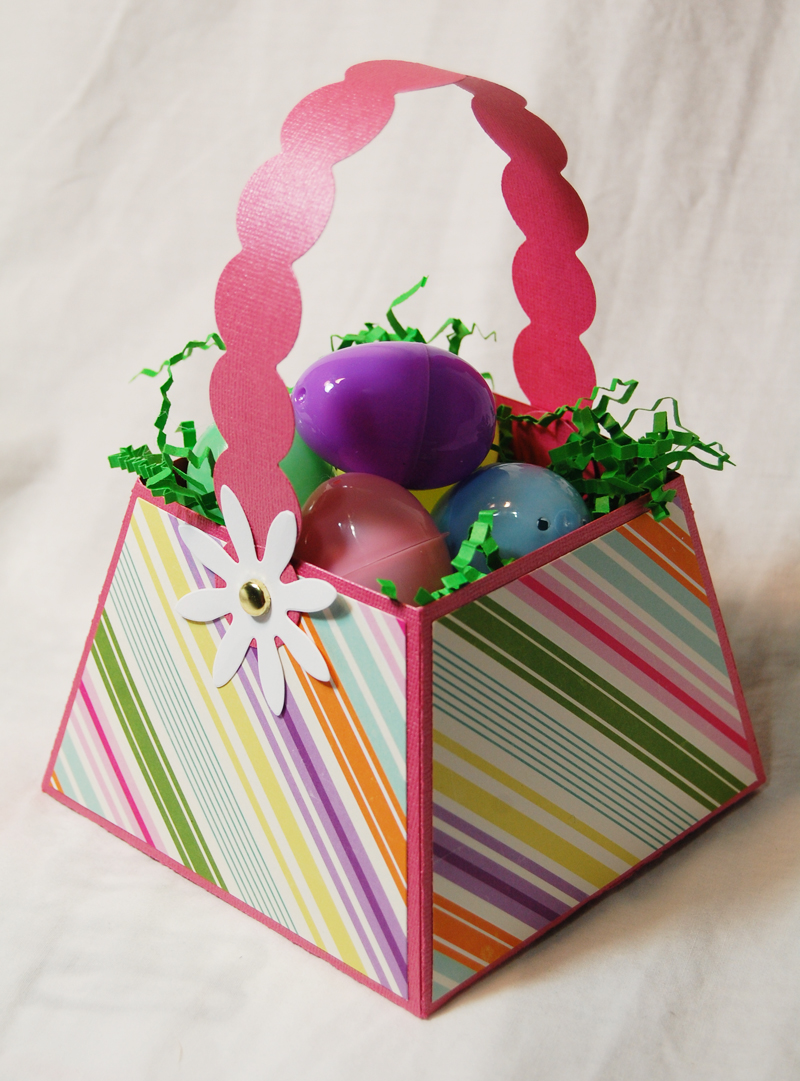 Here is the box filled with Easter grass and mini plastic eggs.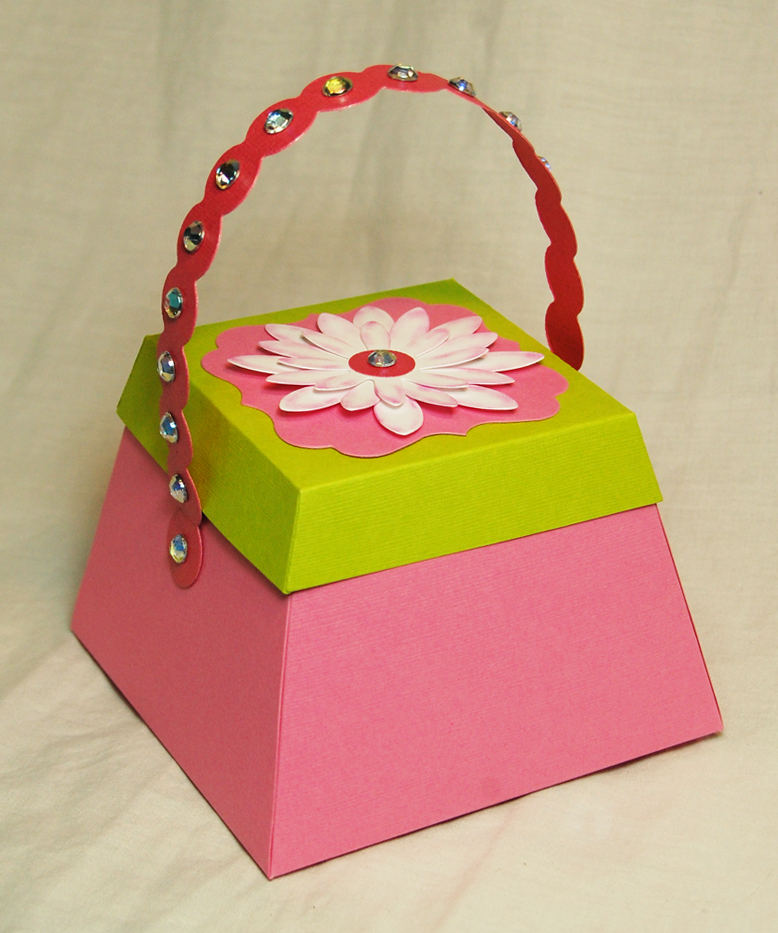 Here is the pyramid box, purse style. I used the AccuCut Borders #2 die BR571, 3/4″ wide, for the handle and blinged it up with Hero Arts 7mm Gems. Cardstock was Bazzill Basics Bling Feather Boa for the handle, Granny Smith for box top, and Chablis for the box bottom. Also used was AccuCut die CV210 Convertibles frame for the top mat and I used my new layering daisies dies to make the flower on the top, inking the edges with an old Stampin' Up! Pink Passion ink pad.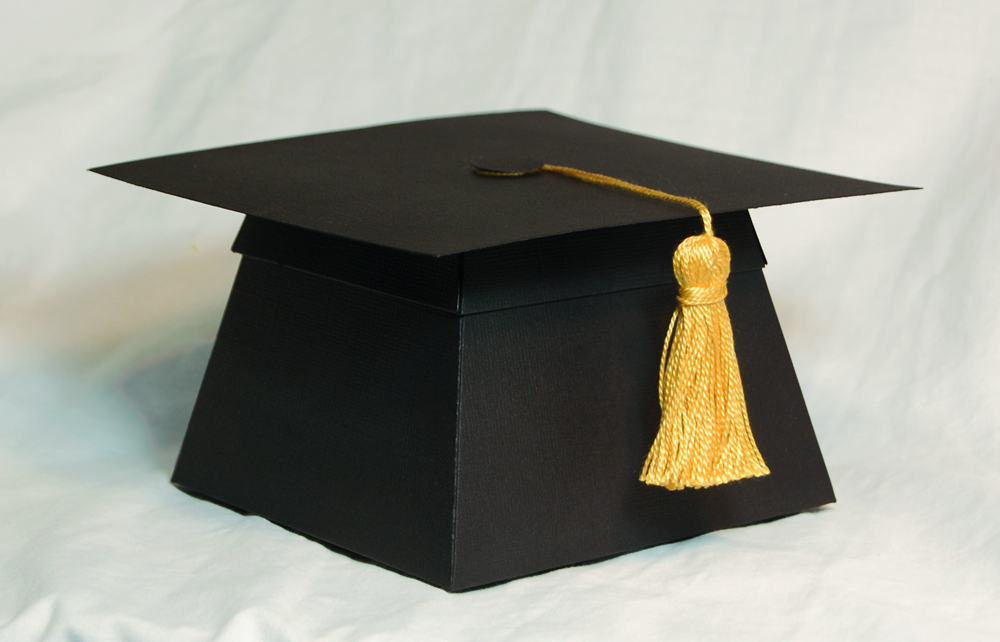 Here is the graduation favor box. I cut a box bottom and box top from Bazzill Basics Raven, then added a 6″ square for the top. The circle is cut from a 3/4″ circle punch. And I handmade the mini tassel. You can see the instructions on my How to Make Tassels post.
A view of the inside of the box. Fill it with goodies for the lucky graduate!