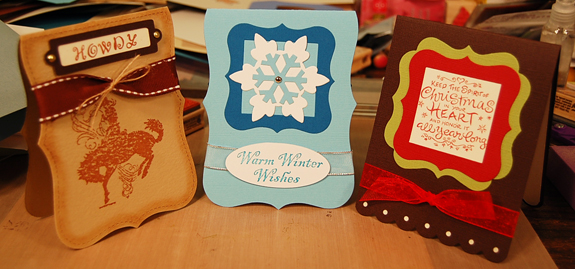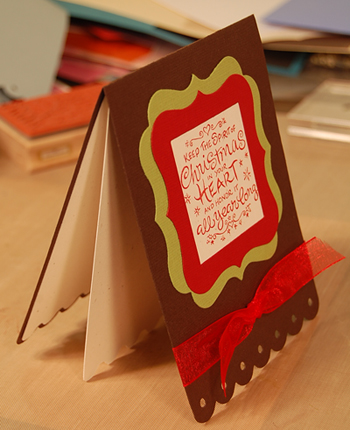 I cut a double-liner for heroes (OWH lingo – military service members) to write home extra-long notes to family and friends.
Shipped my second box of OWH cards. Whew! Probably just barely made the Oct 31 deadline for Christmas cards. I got the OWH email receipt on the 30th, so hopefully they were usable. Gotta start earlier next year! The Valentine's deadline is 12/31. I'm going to try to do better for that one.
The cowboy "Howdy" card uses my new A2 Ornate Card with dashed lines. This sample pic is the plain version. For the OWH Box, I stamped "Missing You" on the lower right-hand corner. Stamp set is Stampin' Up! Bronc Buster.
The Warm Winter Wishes card uses the A2 Ornate Card and 3″ Ornate Frame. "Warm Winter Wishes" is from the Stampin' Up! Snowflakes set.
The Christmas card is made with my new A2 Scalloped Lace Card, 3″ Ornate Frame, and another AccuCut Antique mat. Stamped greeting is PSX F-2345 Keep the Spirit of Christmas, one of my favorites I use a lot.