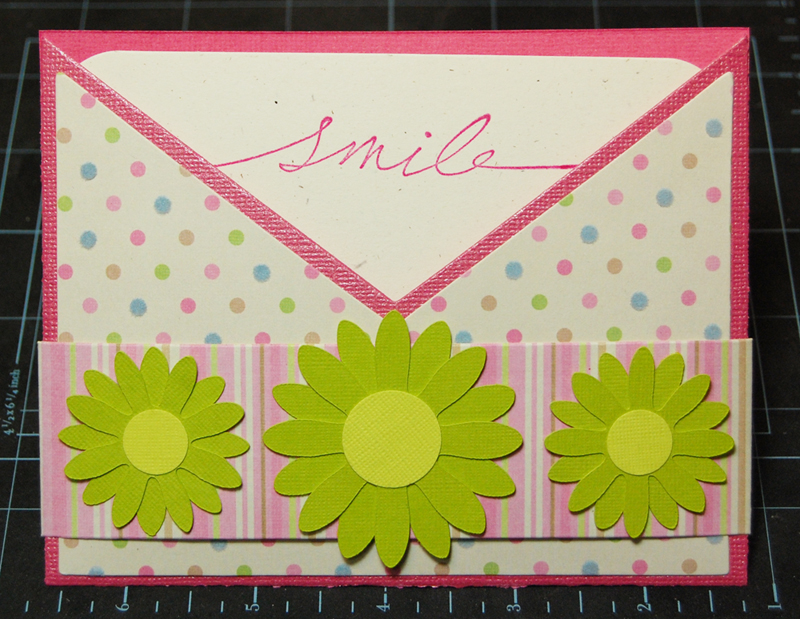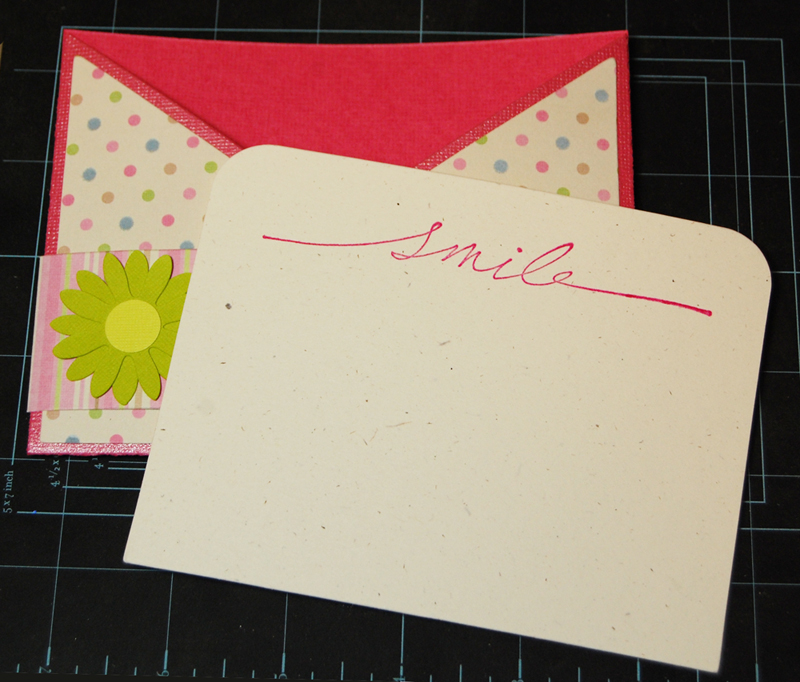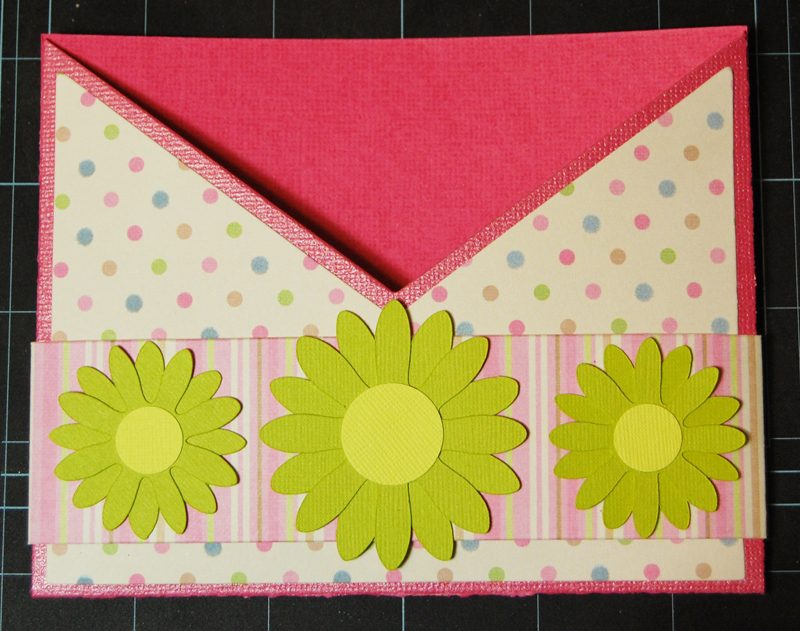 Here's today's little project. Just got a shipment of AccuCut dies, and did a little card today with the A2 Card-Criss Cross NC228 die. Lois, Sheila, and I were at Mary's last Friday for our weekly get-together and I peeled the wrapper off the die for the first time. It was so fun to raid Mary's stash and pop out some cards really quick. The design of the card shape and how it has the great mat for the front, plus the card band, make it easy to decorate. And I love the rounded top of the insert as well. It's all about the details.
The pink cardstock is Bazzill Basics Bling and the patterned paper is an old Imaginisce line, Baby Powder, #000736 Tiny Tantrum (dots are one side, stripes are the other.) The stamped "smile" greeting is from the Stampin' Up! set Wonderful Words II. The flowers are part of my custom AccuCut die set, layered daisies, coming soon! I will have sizes of this eight-petal daisy in 1.5″,2″,2.5″,3″,3.5″,4″,4.5″, and 5″, plus a great 5.5″ square daisy card that will double as an album page. Can't wait till it arrives, probably about April 4th.
Where have I been for nearly six months? Well, as seems to happen every year around November-ish, I just get overwhelmed and burned out and it takes me a while to get back on my feet. Since I run my own small one-woman business and want my blog to feature all the fun things I like to do with my dies and all the wonderful paper that is out there, I don't want my blog to turn into a place where I ramble on in detail about my personal issues. But I'd like to briefly mention that I struggle with depression/anxiety and want anyone out there who also struggles to maybe get some inspiration or ideas on coping with their "crazy", as I like to call it.
So, one of the things I'm learning to make myself do is to take things in smaller pieces, and try to remember the things I do accomplish and not get so upset about all the things I can think to do, but can't get done. Just like so many others, whenever I get on Pinterest (my boards) I can start pinning and reading about various projects, and then blink to see that several hours have gone by. Not very productive being an idea-collector sometimes, but I did find something useful – a simple blog that I kind of found inspiring. It's called Krafting With Karen and it seems like she does a simple little post every day. I'd like to do the same, just enjoy simple crafting without trying to make myself accomplish Mt. Everest every day. So here goes, my first post this year, and hopefully there will be many more.