Now it's week three of my Card Service Project. Here are the new cards I made this past week to add to my giveaway stash yesterday:
And this greeting: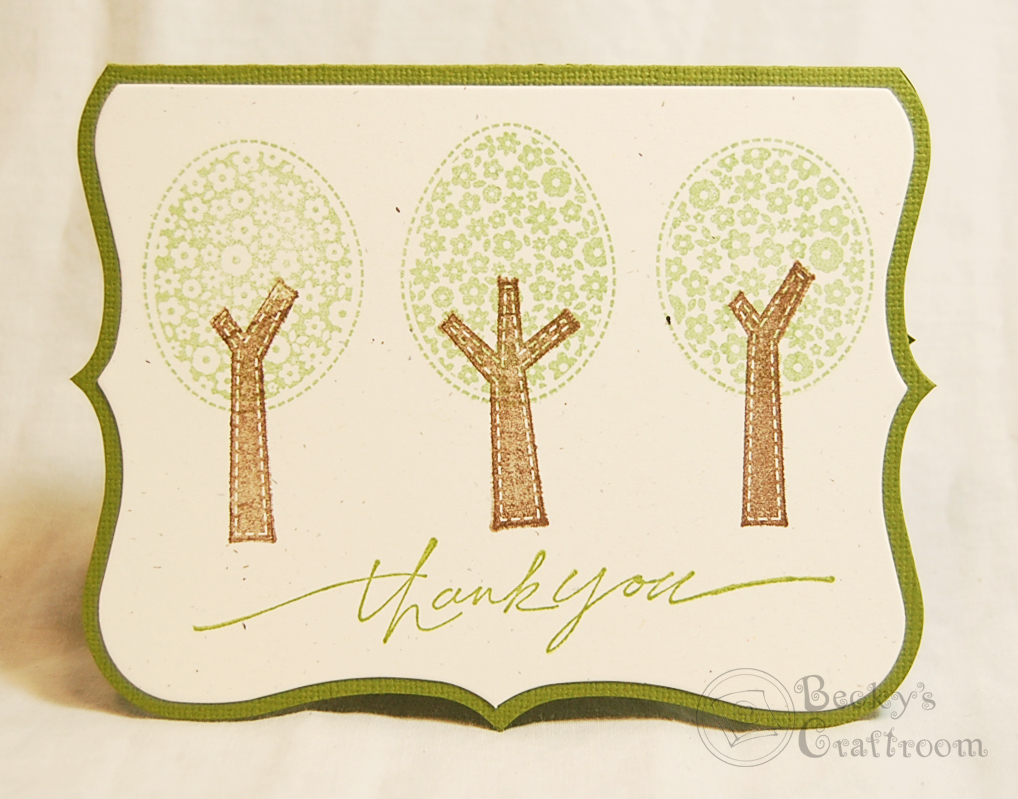 First, I cut the card from one of my custom AccuCut die sets, in Bazzill Basics Hillary. The coordinating mat is cut from my favorite cardstock, French Papers Speckletone True White, which you can read about on this blog post. Then, I used a few old Stampin' Up! ink pads, Old Olive and Close to Cocoa. The stamp set used is Unity Stamp Company JS-989A Country Pumpkin Chowder, the "just saying hello" greeting is from Hero Arts CL380 Truly Appreciated set and the "thank you" greeting is from the Stampin' Up! Wonderful words set.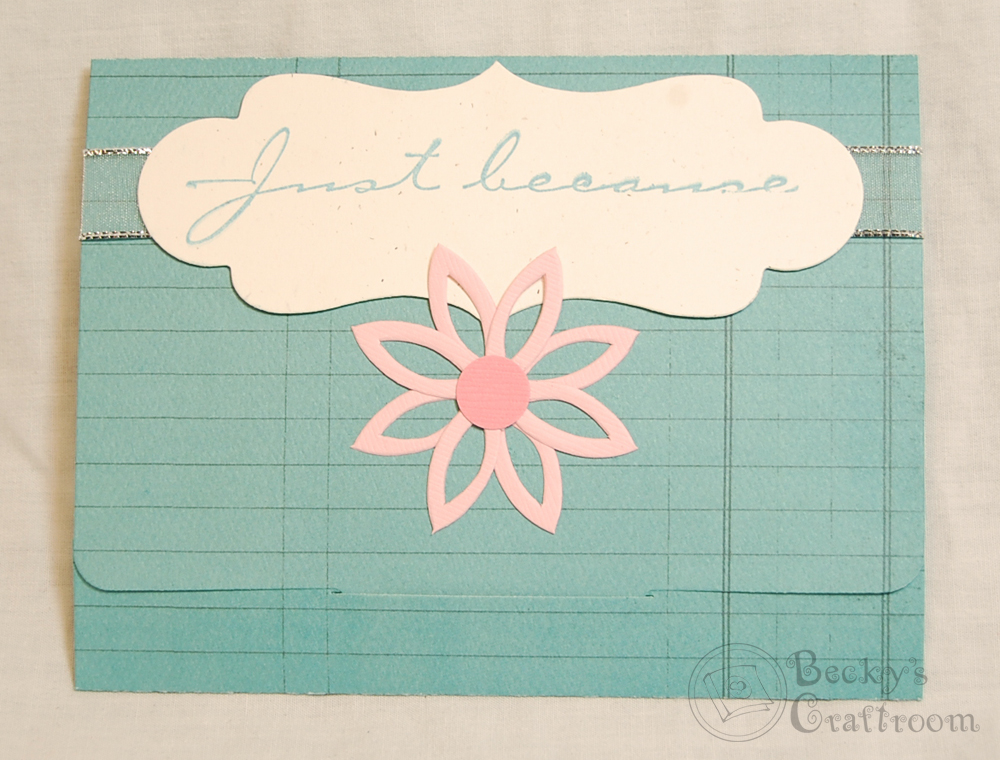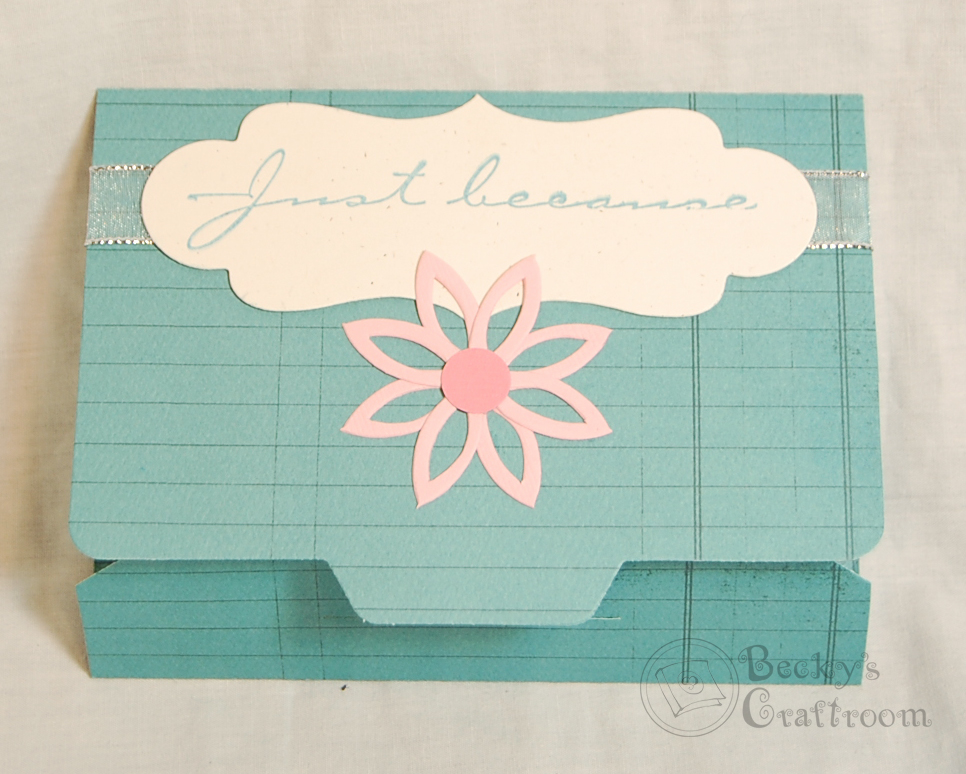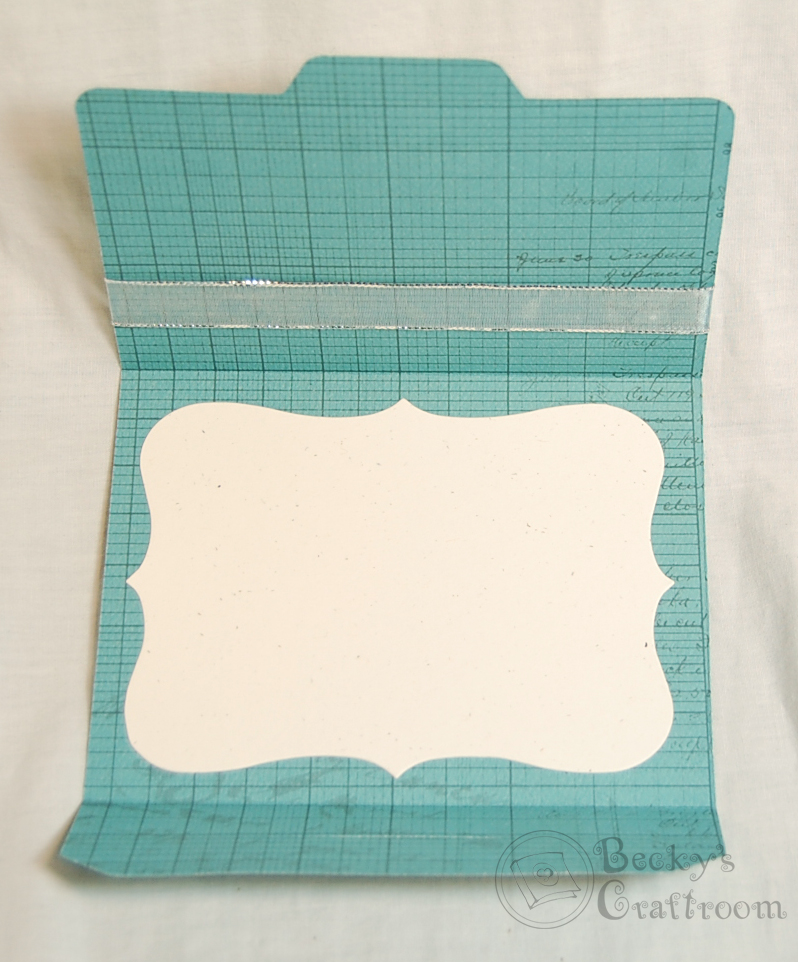 This is one of my favorite A2 card dies, so simple to make a card! It's AccuCut's A2-Gift Card NC215 die. Now, I have a little secret. Shhhh, don't tell. I altered my die! Yes, I know it voided my warranty, but to me it was totally worth it. This is what I did: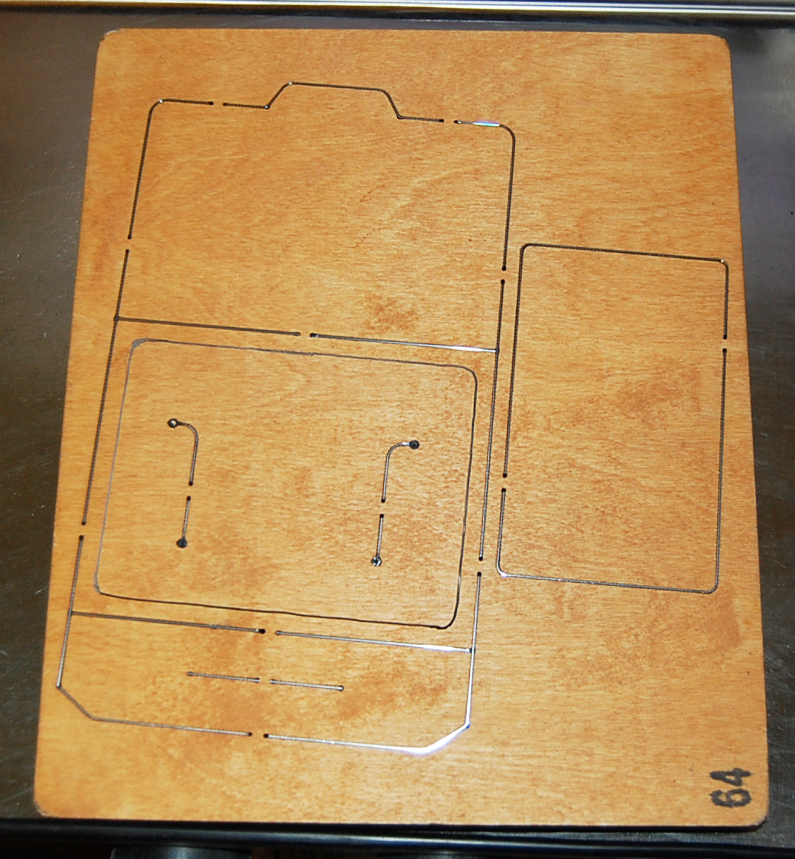 I took my scrollsaw and cut the gift card shape out of the card die. I made it the Series 3 Convertible size, so that I could insert it in other A2 card and mat dies. Now I can use this die as a regular card die (LOVE a fold-and-tuck card shape!!), as well as a gift card die, and also make gift card mats for all my other A2 cards! Awesome, right?! I thought so, too. But if you don't want to alter your die, just cover up the gift card slots with a mat.
For this card, I used BoBunny patterned paper, Ocean color Double Dot Double-Sided Textured Cardstock 12″X12″ (not pictured, but is the same color as the Journal line), and the Ocean color Journal Double-Sided Textured Cardstock 12″X12″. The Double Dot paper line is still available and going strong. Love this stuff, go get some. I also used AccuCut's Nameplates #12 N1056 die to stamp the greeting on French Papers Speckletone True White cardstock, and also Flowers #19 F1028 die to make the pink flowers. I used a plain circle punch for the flower centers. The ribbon is one I ordered from JKM Ribbon. The greeting is stamped from the Stampin' Up! set Simple Sayings II. The inside mat is also cut from the French Papers Speckletone True White cardstock and is from a custom die I had AccuCut make for me.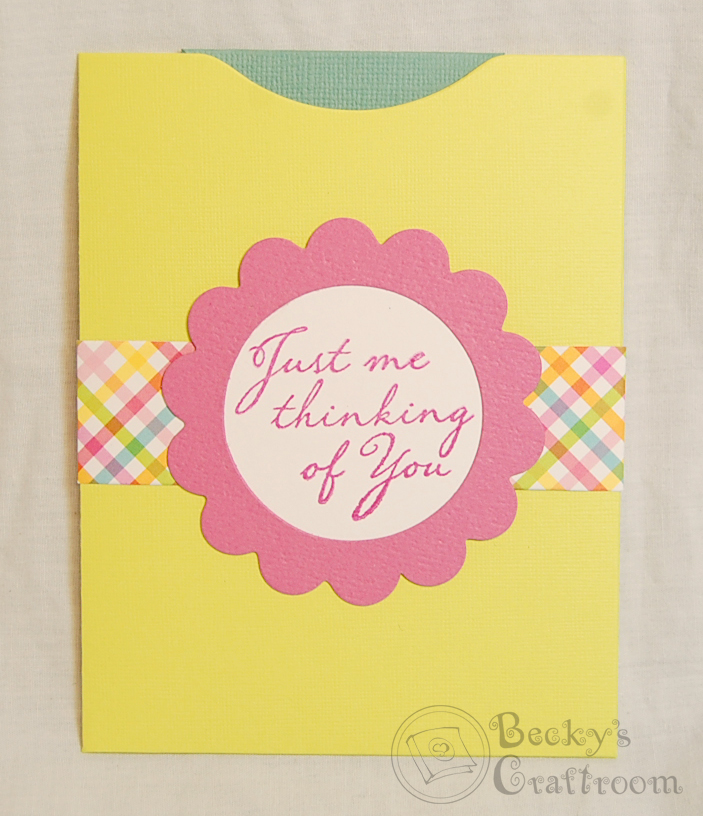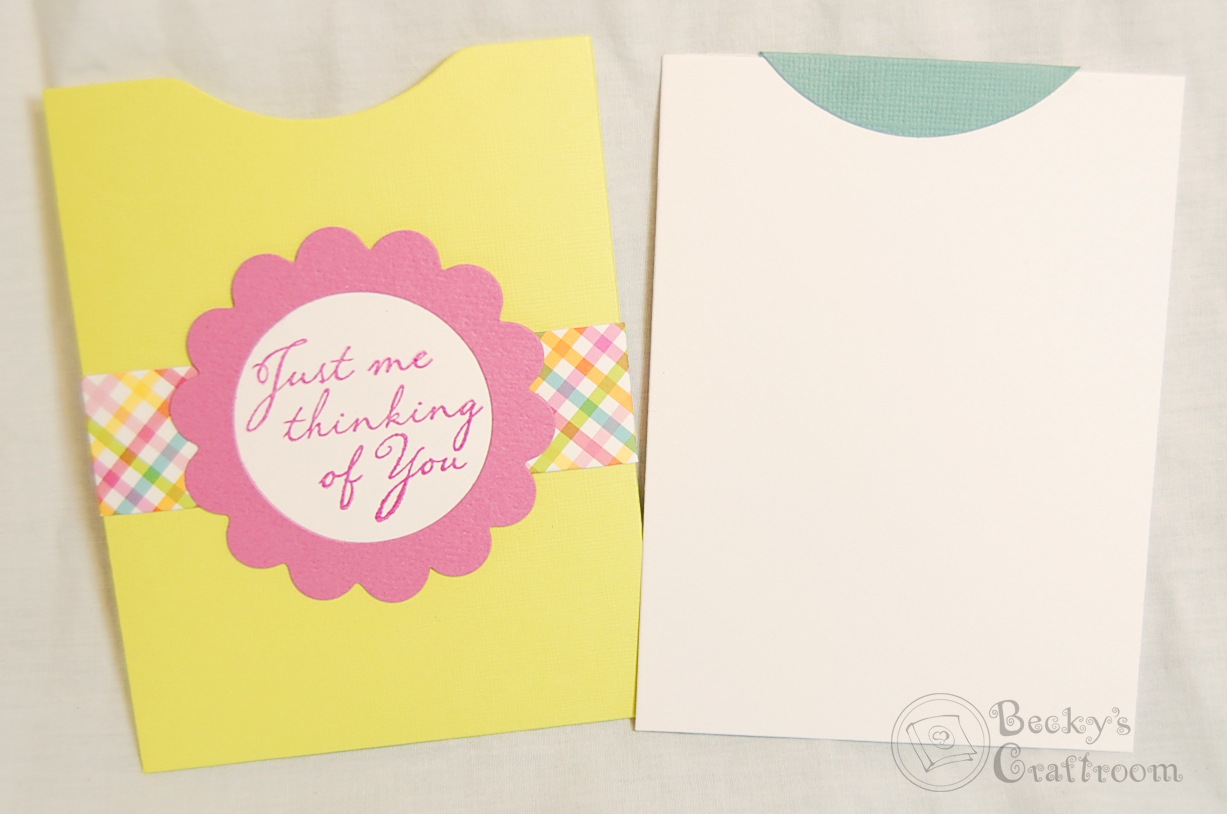 I die cut this one from my custom AccuCut A2 Pocket Card die, which I had made for me several years ago because I loved AccuCut's A7 Pocket Card. AccuCut now has a nearly identical one in their catalog, the A2 Card-Easel. I love the pocket card shape! It's totally a staple in my card-making. I cut this from Bazzill Basics Granny Smith cardstock, used the A2 Card-Bands NC223 die to cut the card band from Doodlebug 4129 Colorful Kites patterened paper. The flower was cut from AccuCut's CR632 Frames-Scalloped Circle die, in Bazzill Basics Pinata cardstock. The insert tab, cut from Bazzill Basics Lagoon cardstock, is from a custom shape I had done, but you could improvise with a 3″ circle shape, by placing a folded piece of cardstock about 5/8″ over the inside of the circle, and it would give you that rounded circle wedge/moon shape. AccuCut has two 3″ circle dies, either the Circle Convertibles Insert (Series 1) CV109 die or the Circle CR200S die. The greeting is stamped from the Hero Arts CL434 Just Find Me set, using an old Stampin' Up! Pink Passion ink pad.
Week #3 is done, let's do some more for next week!